HCM Solutions
UKG Pro unites all aspects of HR, payroll, and talent management
UKG Pro™ (formerly UltiPro®) is an all-inclusive, cloud-based solution that deliver serious business benefits for your organization and the most human capital management (HCM) functionality available for the greatest value today.
Whether you are an HR director, HR manager, payroll professional, CFO, executive, supervisor, or hiring manager, UKG has a people management solution for you. Check out one of our tours to see how UKG Pro's end-to-end HR, payroll, and HR talent management functionality can make everyone in your organization more effective.
Solution features include HR, Pay, Benefits Administration, Open Enrollment and Life Events, Workforce Management, Time, Attendance, Scheduling, HR Service Delivery, Payroll Administration, and Tax Management. Other strategic tools include Global HCM, Reporting, People and Workforce Analytics. There is also talent management functionality, which includes Recruiting, Onboarding, Career Development, Performance Reviews, Compensation, and Succession.
UKG Pro Services includes Pro Managed Services, Launch, Lifelong Learning, Payment Services, W-2 Print Services, and UKG Pro Check Printing.
At UKG™, our purpose is people™. Everything we create — and everything we do — stems from our commitment to helping your organization and your people reach their goals. Learn more about our dedication to HR, our culture, and customer service that goes beyond software support.
Live UKG Pro Web Demo:
HR and Payroll Solutions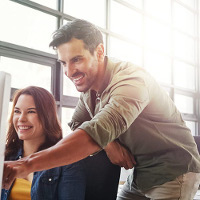 Watch an online demo of UKG Pro, and discover the power of one solution, one provider, one place for all things people. HR, payroll, and talent management software for your workforce management needs.
Register Now