---
On-Demand Webcast:
ACA Planning 2016 and Beyond
Affordable Care Act deadlines are looming. Are you prepared?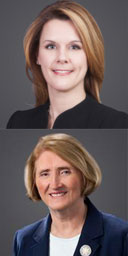 2016 is here—are you up to date on all of the ACA regulatory updates taking place this year? The rules are complicated, the penalties are serious, and deadlines are looming. Get the information you need to know right now.
Join us for a on-demand one-hour webcast led by Jeanne Floyd and Ann Carr Mackey, attorneys with the law firm Ogletree Deakins.
This informative session will guide you through what's changed this year, ACA reporting challenges, employee classification concerns, and much more. We'll also take your questions live. Get the clarification you need to keep your organization compliant in 2016 and beyond.
Register for this complimentary on-demand webcast that will answer employers' most pressing questions about ACA.
Guest Speakers
Jeanne Floyd
Attorney, law firm Ogletree Deakins
Jeanne is a member of the employee benefits and executive compensation group. Jeanne focuses her practice on issues concerning health and welfare benefits, including Section 125 cafeteria plans, medical savings accounts (such as flexible spending arrangements (FSAs), health reimbursement arrangements (HRAs) and health savings accounts (HSAs), and wellness programs.
Ann Carr Mackey
Attorney, law firm Ogletree Deakins
Ms. Mackey has practiced law for over 35 years. Early in her career she was a criminal attorney, litigator, environmental attorney, estate planning attorney and divorce attorney. For more than 20 years, she has specialized in employee benefits. Since the Affordable Care Act was enacted in the spring of 2010, Ms. Mackey has played a key role helping employers comply with the requirements of Health Care Reform. She is co-chair of Ogletree Deakins' Health Care Reform Subgroup.