---
How Ultimate Software Delivers a Competitive Advantage to Retail Organizations
What does it take to thrive in retail today – an environment rife with technology innovations, disruptive business models, changing customer preferences, and notoriously slim margins?
A great workforce.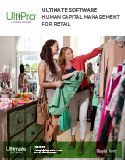 But building the right workforce in the most cost-effective manner is complicated. HR and the managers who hire, train, and recruit store-level and corporate employees must overcome the perception of low pay, no/minimal benefits, and limited career growth prospects. They must contend with high turnover, continual training, and shifting employee schedules which inflate employee costs and reduce already-slim profits.
What's more – hiring, training, development, and scheduling decisions are often decentralized to store managers and regional HR mangers, many of whom are early in their careers and lack the training and tools to make these decisions effectively and efficiently. The decentralization of HR responsibilities also makes it difficult to ensure consistency in the employee experience and compliance with the variety and complexity of local, state, provincial, and federal labor, payroll, and tax laws. To effectively address its myriad challenges, retail HR must be agile, creating flexible talent management strategies that give their organizations a competitive advantage without overlooking the regulations that govern payroll, taxation, and the workplace.
Ultimate's UltiPro is a comprehensive cloud human capital management (HCM) solution used by retailers like The Container Store to empower HR and business managers to:
Manage HR data and processes across the organization and in all locations seamlessly
Comply with complex workforce, payroll, benefits, and tax laws across all regions with ease
Master the seasonal surges in customer demand by onboarding new hires quickly and applying science to store-employee scheduling
Build an employer brand and culture that helps win the war for talent
Expand the skillsets of employees to meet new customer expectations and operational needs
Predict attrition and proactively mobilize retention efforts
Learn why Ultimate Software is an essential solution for retail organizations.