---
Why Financial Services Organizations Choose Ultimate Software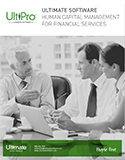 Changing workforce and payroll laws, intense competition for talent, and evolving employee expectations make it difficult for HR and business leaders to recruit, hire, and retain the best people. Financial services HR and business leaders face those challenges but also have the added responsibility of ensuring organizational compliance with the legislations imposed on the industry as a result of the 2008 financial crisis.
Ultimate Software delivers insights and tools for financial services HR and business leaders to not only solve their compliance challenges but also build a build a high-performing and ethically grounded workforce and leadership team.
Ultimate's UltiPro® is a comprehensive cloud human capital management (HCM) solution used by financial institutions – including First Horizon, American Fidelity Assurance Company, and Stifel Nicolaus – to empower HR and business managers to:
Comply with the myriad local, state, and federal workforce and payroll laws – as well as with the post-2008 regulations
Attract and engage prospective employees with a candidate-friendly recruiting and onboarding solution
Promote and reward the right behaviors with a robust performance management solution
Understand what employees value and identify the workplace issues that must be fixed to retain their workforce
Cultivate the workforce of the future with flexible learning and succession management
Identify changes in workforce sentiment through predictive analytics, empowering managers and leaders to take corrective action before employee engagement and performance erode
Learn why Ultimate Software is an essential solution for financial services companies.