---
On-Demand HR Webcast
Employment Law 2018: What You Need to Know Now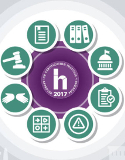 The New Year is a time for reflection, resolutions, and, of course, employment law changes. 2018 is just around the corner, so now is the time to prepare for the changes to scheduling, sick leave, and minimum wage laws that are coming your way.
Join employment attorney and HR consultant from tHRive Law & Consulting LLC, Kate Bischoff, for a comprehensive discussion on 2018's employment law trends and what they mean for employers.
Don't miss out on getting the information you need to stay compliant in the New Year!
Speaker
Kate Bischoff
Kate is an enthusiastic management-side employment attorney and SHRM-SCP/SPHR-certified HR pro. She advises organizations in a wide range of industries on employment law and human resources issues, from recruitment and workplace culture to terminations. Kate is passionate about improving company culture and using technology (social media and data analytics) in the workplace.