---
Uncovering the Positive Drivers of Employee Experience
Ultimate Software has teamed up with the Center for Generational Kinetics to find what really drives employee engagement at work and what motivates them to perform at their best.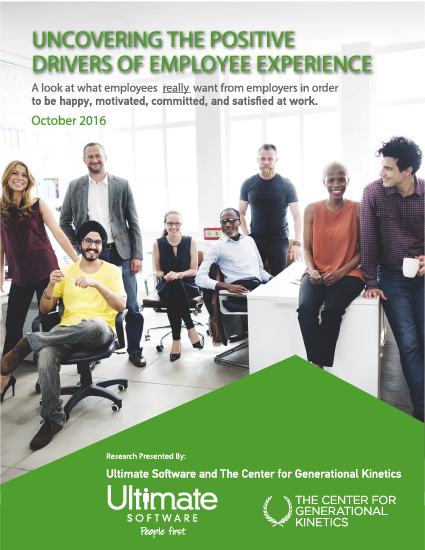 Everyone seems to be talking about "employee engagement." But what do employees say really affects their level of engagement, and ultimately, their commitment to the job and company?
The factors that influence employees' on-the-job commitment are changing dramatically. The Center for Generational Kinetics and Ultimate Software sought answers to this question to help you increase engagement levels and overall employee satisfaction levels at work.
It is no longer a viable strategy for organizations and their leaders to sidestep the issue of how to engage their workforces, because employee engagement is central to success. The insights you find here may surprise you about what truly drives a positive employee experience.